Set trends with these types of bodycon style
The form-fitting style is making a big splash amongst the fashionistas who are adventurous. Skin-tight clothes are not your usual everyday clothing. They clearly cling to the body's lines. To wear a body-hugging dress, you need to be confident. Clothing that is attractive can flatter any body shape, but the ability to wear it without fail requires skill. Style is a skill that can be mastered or you will pay the price for a fashion faux-pas.
Seductive Style
It enhances your curves. The bodycons evoke the sassy lady in you which is impossible to ignore. You will find that you are more comfortable with this femme fatale look once you get used to it. Body-embracing clothing never goes out of style. It always leaves onlookers wanting more and drooling.
"Bodycons stood the test of times for more reason than one," claims Yehuda Bitton, COO and designer at Eli Bitton luxury fashion house. "The designs celebrate the physicality aspect, inviting a wide range of body types. The versatility of the clothing makes it a wardrobe staple for many. It can be worn on any occasion, from casual to formal. Bodycons also promote empowerment by promoting body positivity, individuality of expression and a love of one's own skin. So, it won't be a misnomer to dub it timeless classic and fash frat's favourite," he elucidates in depth.
Designer-duo Riddhi Bisani and Neha Ostwal, co-founders of NOTSOSURE, opine in unison that "bodycons have remained a popular fashion pick over the years for celebrating our bodies. The sartorial wonders create a sleek and alluring look, underlining the shape of our body and lending it a different dimension altogether."
Formal Affair
Bodycons can also be worn as an official outfit in offices and at meetings. For an official look, team a bodycon with a tailored jacket or blazer, tights or legs, and closed toe shoes. "Well, it can be business-as-usual for bodycons in office settings, provided one keeps a tab on the dress code and culture of the workplace. Bodycons can be inappropriate or too revealing in more formal workplaces. However, in a relaxed ambience, a creative dress code may aptly fit the bill," explains Bitton. "It's also not a bad idea to include some minimal accessories. Remember, it's crucial to adhere to your company's guidelines and ensure that the bodycon outfit aligns with the specific work environment and purpose," he further notes. Ostwal echoes that "bodycons may give an absolutely elegant formal look provided the choice is made precise and one complies with the workplace dress code and norms." She instructs to "style your bodycons with a blazer and a belt to unveil a professional mood, throw in some accessories and you will be good to go."
Breathable bodycons
Dressing down in the summer requires light, airy fabrics. Cotton blends, linen, jersey knit and featherweight stretchy materials hit the bull's eye. These fabrics provide ventilation to keep the wearer comfortable and cool in humid conditions. Cotton, linen and rayon are lightweight fabrics that are perfect for this season.
RISHAB DHIMAN
"You can also sample bamboo fabric, which is sustainable and has moisture-wicking properties too. It feels soft and smooth against the skin, making it a comfortable choice for searing summers," informs Bisani.
Pattern Play
Bodycons look great in a mélange of prints, patterns and a pop of colours. Floral prints, stripes and polka dots are popular options. Animal prints, geometric shapes, floral prints, knitwear or pleats in monochrome, abstract designs, or knitwear with animal prints also make great choices. Prints and patterns can be chosen according to your aesthetic sense, whether it's girly, ladylike or bold.
"Size does matter while selecting prints and patterns for a bodycon outfit because of the fabric's attachment to the body," avers Ostwal. Both horizontal and vertical stripes can conjure up a pictorial quality, playing with the body's proportions. The use of thin or wide stripes has a variety of optical effects. They can be used to elongate the body, or emphasize the curves. "You may also apply different prints accordingly in sync with the occasion and the season like florals for springs and summers, polka dots for a retro touch, geometric and abstract motifs for a contemporary vibe, et al," enlightens Bisani.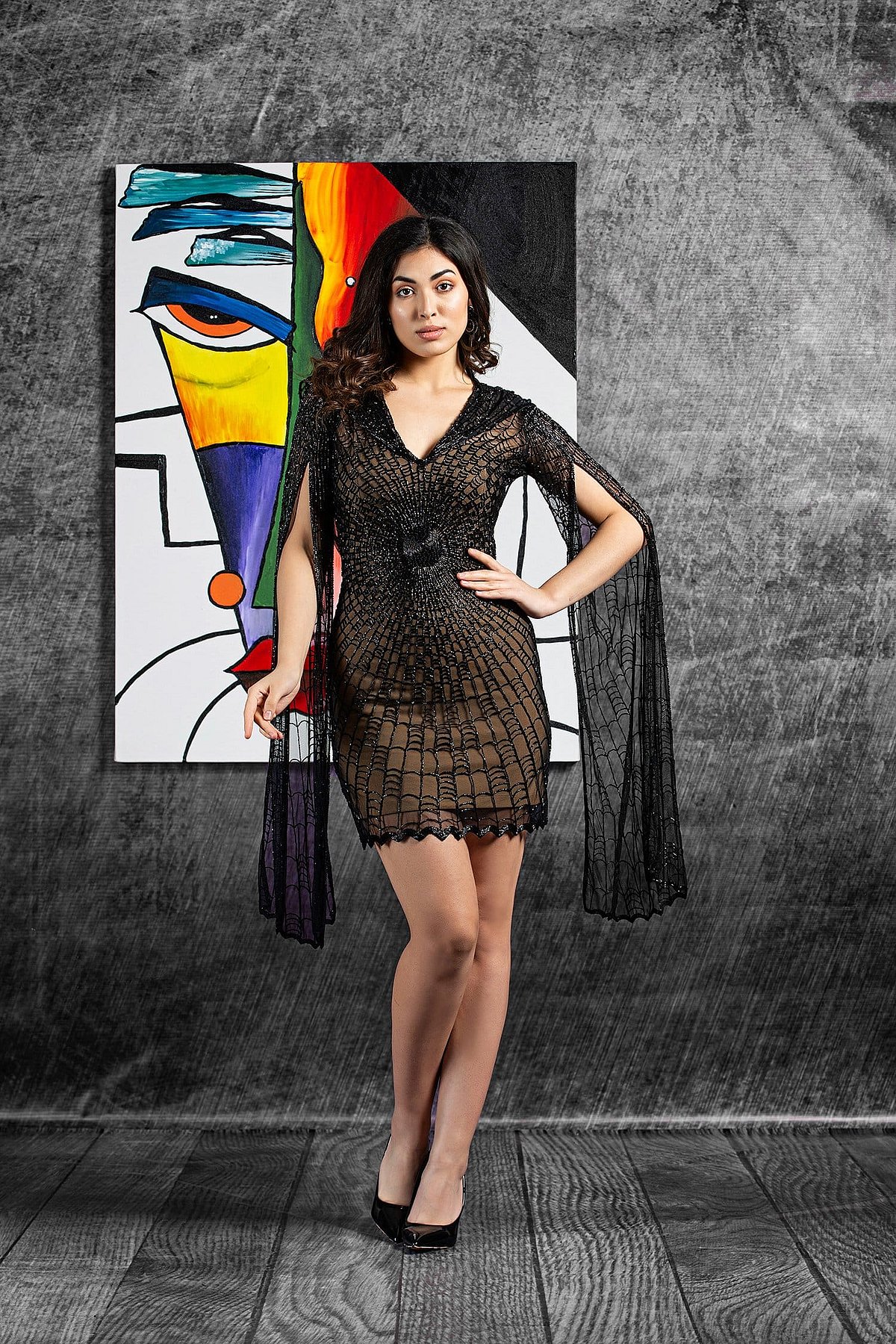 Fit for All
Bodycons, figure-hugging clothes and suits can complement plus-size and skinny bodies. It's important to find the perfect fit, style, and confidence in order to rock this look. Bodycon dresses are perfect for slim and lean bodies. They can give the illusion of curves, and enhance the figure. Plus-size women will love bodycon dresses that are tailored to their figure. Plus, adding jackets, cardigans and shapewear to your wardrobe can make you feel more comfortable.
Lingerie to lap up
It's important to choose the correct lingerie under a bodycon dress to provide a smooth and seamless feel. Nude or seamless underwear such as thongs and those with minimized panty line visibility are good examples. A strapless bra with supportive adhesive cups or a bra that fits well and is supportive can be paired perfectly with certain bodycon styles. Shapewear such as seamless slips or high-waisted briefs can be useful. It is highly recommended to wear seamless underwear with a bodycon gown because the dress can be body-hugging and take on the form of what's underneath.
RISHAB DHIMAN
Necklines: Nail It!
You can highlight your bodycon with different necklines, depending on the style you prefer and the look you desire. A wide variety of necklines are available, including V-necks and scoop necks.
"My personal favourite has to be a classic off-shoulder but it ultimately depends on the wearer's selection and her body type. One may opt for a sweetheart neckline, halter neck, V-neck, square neckline, etc," volunteers Ostwal.
"It's essential to try myriad necklines and see what flatters and plays up your features most," insists Bitton.
Accentuate Your Look with Accessories
Accessories such as statement jewellery, belts that define the waist and small handbags can be used to complement bodycon dress. In addition, scarves or hats will complete the look.
"Statement jewellery is perfect if you are wearing a bodycon in solid colours. You can add a belt around the waist to make it look slimmer. Scarves and wraps can sprinkle a dash of hue to your overall look and yes, remember to carry a bag that complements the colour of your bodycon well," Ostwal offers fashion tips.
Step out in Style
Stilettos, pumps or sandals that have steep heels will elevate the dress to a more elegant look. If you want a casual look, try wearing flats, ankle boots or sneakers. Depending on what you're wearing, you can try out different footwear. Wear stilettos for a glamorous appearance. Reserve heels or pumps for formal occasions. For scorching summers you can opt for flats or strappy shoes.
Click here to receive our daily E-paper via WhatsApp.  Click here to receive it via Telegram. The paper's PDF can be shared on WhatsApp, Facebook and other social media platforms.