These photos revive a lost world of Jewish food – The Forward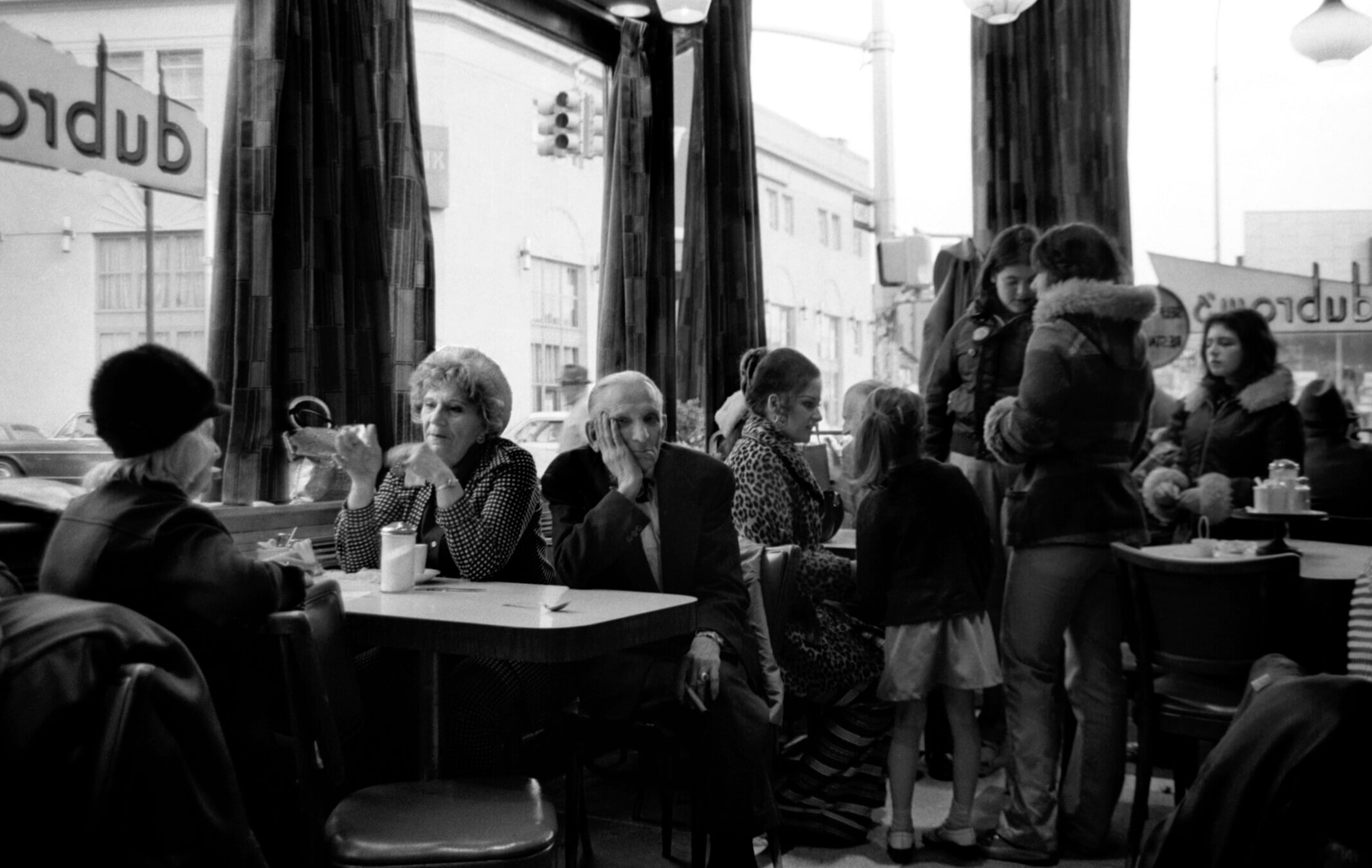 Editor's note: This essay is an excerpt from Marcia Bricker Halperin's book of photographs, Kibbitz and Nosh: When We All Met At Dubrow's CafeteriaCornell University Press will release a new edition of the book on May 15. 
In 1974 after graduating from Brooklyn College with a major in art, I was creating a photographic portfolio to apply for a Master of Fine Arts program. I decided to create a series of photographs by photographing the store windows along Kings Highway, a busy shopping street that runs through my Flatbush neighbourhood in Brooklyn. I was intrigued by the many different layers that could be captured through the complex tones and textures on the glass surface.
The front windows of Dubrow's Cafeteria on Kings Highway and 16th Street were large and convex, set in a chrome and mosaic facade. In my photos, I included both diners standing on the street and diners who were inside. The interior was reflected by a long mirror. I was attempting to transcend reflection clichés in my work and create a sense of reverie, much like Eugène Atget did when he photographed the shops of Paris in the early twentieth century.
Dubrow's was an institution in Brooklyn long before I entered it, but I don't recall going out to eat there while growing up. For the Brickers, the occasional restaurant outing meant having something different, even exotic: Chinese food ordered from columns A, B, or C (lobster sauce), or Italian food—a veal cutlet parmigiana, perhaps. As I grew older, I would not have been pleased to have a date take me to Dubrow's, as it seemed to be a hangout for senior citizens. In the 1970s I was more impressed by being driven to a 24-hour diner in Sheepshead Bay with waiters and a jukebox at the table.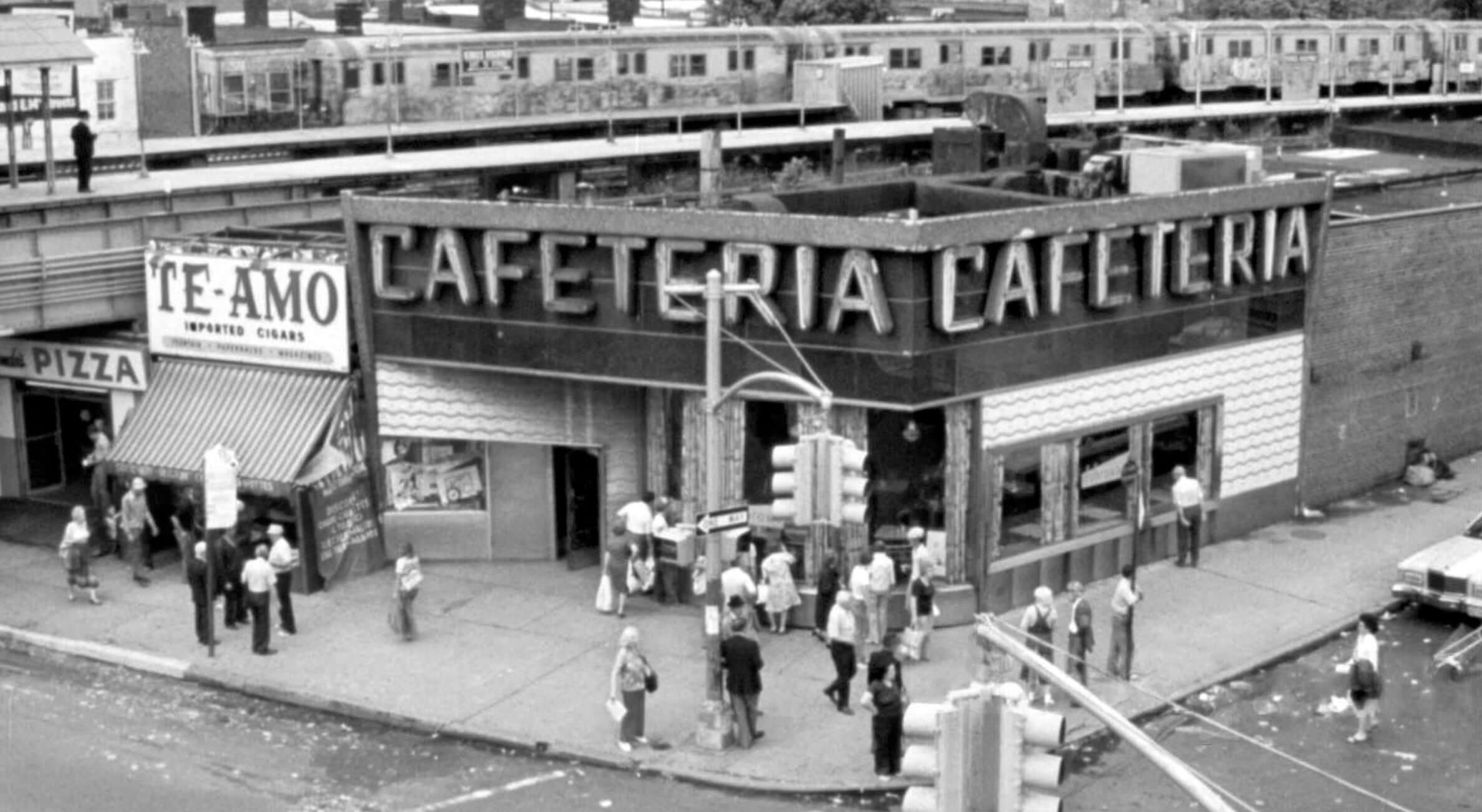 One day in February 1975, while photographing on "The Highway" (as Kings Highway was called), my ungloved, frozen fingers failed to flip the lever to advance the film in my Pentax Spotmatic camera. That's when I sought refuge through the revolving doors of Dubrow's Cafeteria. I got a ticket from Kornblum, and for the very first time found myself in this cavernous place, gazing at amazing and unique faces, bathed in sunlight from the large windows and reflected by the wall of mirrors. I was stunned. I was amazed. My eyes followed the amoeba shaped ceiling half an ave to the rear where it ended with a sparkling fountain. It was in my childhood neighborhood of Flatbush. "Go know!"—so went the expression I heard there in the late seventies, accompanied by a slight upward shrug and outstretched hands.
Photographing inside Dubrow's was not without its challenges. I used a 35mm camera that was handheld to create the photographs. Some were made looking down into a boxy, 2 ¼ twin-lens reflex camera. I frequented Dubrow's on weekday mornings, evenings, and Sunday afternoons, when it was at its most crowded. In the beginning, I often took candid photos, which were taken in secret, including people with whom I shared a table. The cafeteria's management let me sit and take photos for hours, or walk around to capture the counter staff, waiters, customers and food displays. The images began to change as I became more familiar and people started talking with me. My subjects often smiled wide into the camera in a relaxed manner that a man photographer might not have captured. I was considered a novelty despite the canon illustrious woman photographers of that time. As I tried to set them up in the cafeteria, my subjects were also involved. They thought about how they could perform for my camera.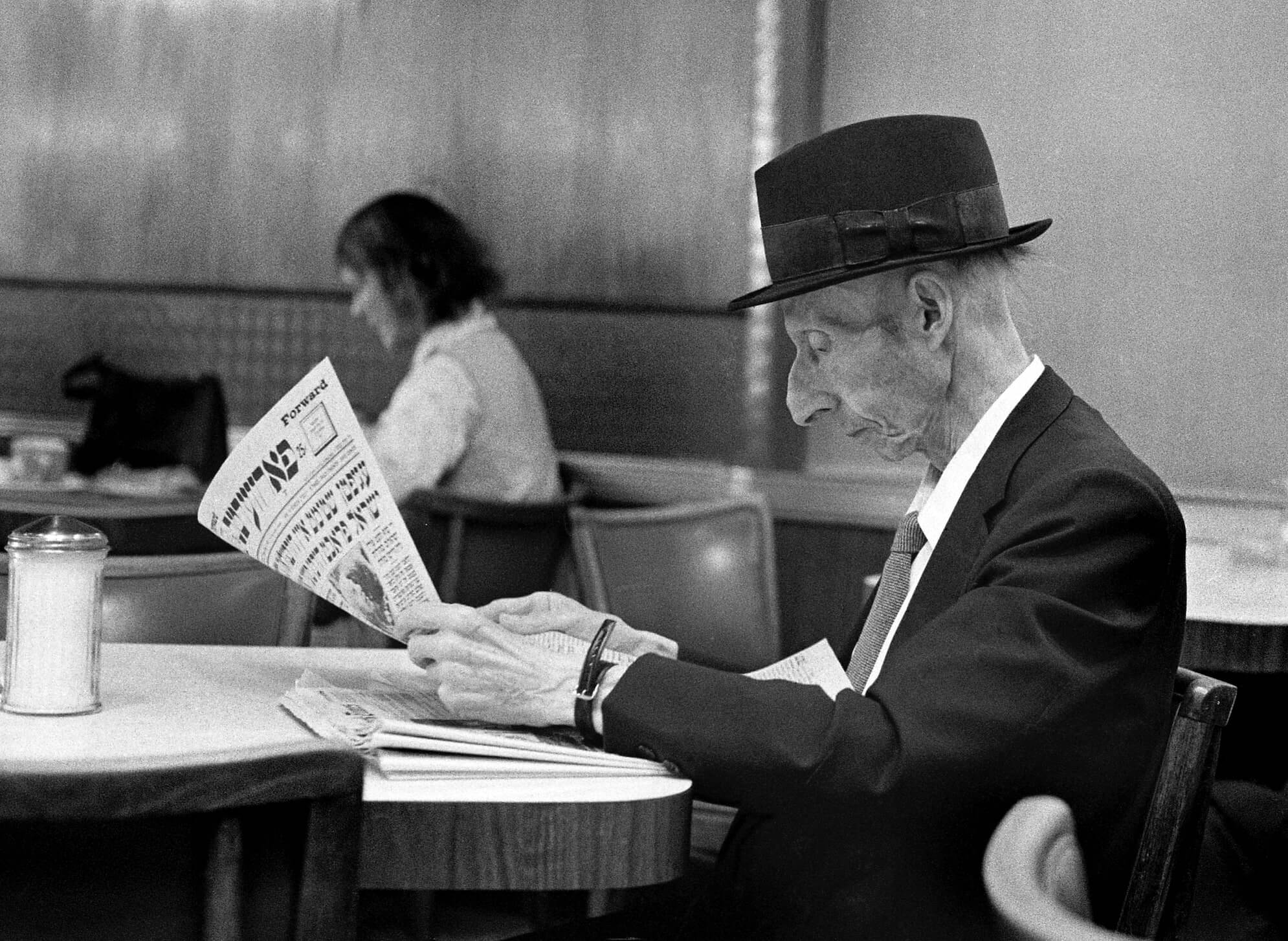 Just as diverse as the décor was the lighting within the 45-by-150-foot cafeteria space. The mornings were filled with natural daylight, while the evenings featured space-age fixtures. The result was a mixture of areas with a lot of light and others that were dark. I got into some funny situations when I tried to use a flash. After I took a photograph using a camera flash in 1975, I overheard two people at a table next to me have a heated debate about whether or not a lightbulb was flickering, or if their wife was just imagining things. In 1975, I used a flash to avoid unwanted attention. Instead, I wanted to capture spontaneous interactions. I took the majority of photos using only available light.
In 1976, months after my first visit to the cafeteria, I wrote in my journal, "I was a celebrity at Dubrow's." It was a naive but true statement. The patrons of the legendary restaurant waved me in and invited me to their table as I entered. "Take my picture," they said, and plied me with Danish, cheesecake, or noodle kugel. I had a large envelope full of imperfect silver gelatin photographs to give away. These were leftovers from the hours spent in the darkroom. There was a steady supply of these prints as "burning and dodging" were irreversible manual techniques in the darkroom, unlike reversible photo editing in Photoshop.
The process resulting in a finished silver gelatin print began in my family's apartment under a heavy camp blanket. In total darkness and using my hands, I opened up the film canister, loaded the delicate strip emulsion covered plastic onto the reel and gently crimped the edges of the sprockets. Once the film had been placed in a light-tight canister I developed it in the kitchen sink, coordinating with my family's evening domesticities so as not to disrupt dishwashing. After a 3-step chemical process, the canister was finally opened and the ghostly negative strip hung to dry on a clothespin.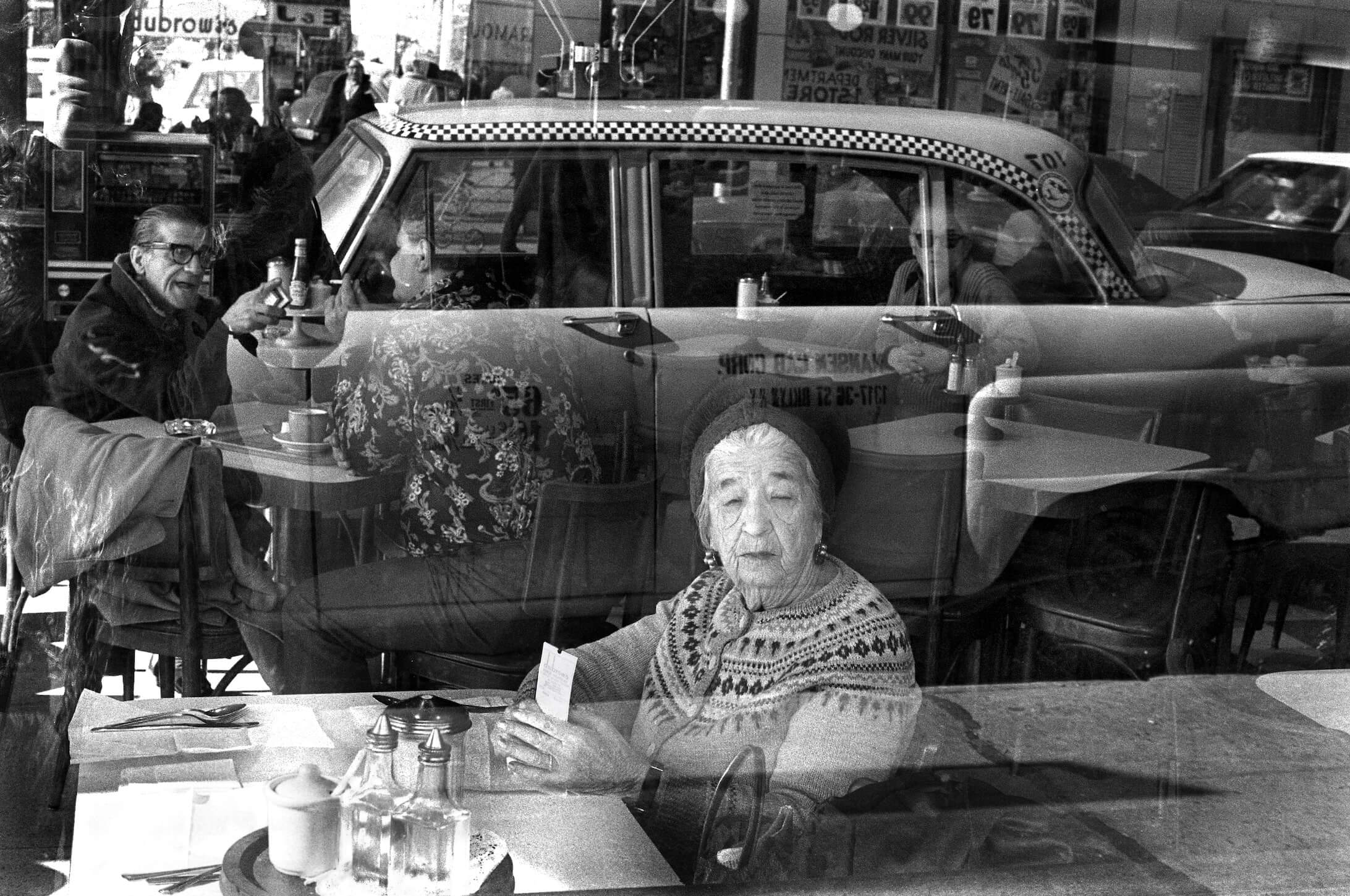 The following day, I cut my dry negatives in six-frame strips and slipped them into glassine sleeves. I then rode to Brooklyn College's photo lab with my three-speed Royce Union bike to make contact sheets for thumbnails and prints. This was my process from 1975 until 1977. When I was hired in late 1977 by the CETA Artists Project, a federally-funded program similar to the WPA and based in New York City I was able set up my dedicated darkroom. I became an active photographer. It was a great opportunity for me to grow as an artist.
I met amazing people at Dubrow's. Most were people I ordinarily would never have had a conversation with over a cup of coffee—ex-vaudeville per- formers, taxi drivers, Holocaust survivors, ex-prizefighters, and bookies. Women named Gertrude Rose and Lillian had heartwarming stories of love and sadness to share.
Conversation flowed freely at Dubrow's, and it was not unusual for patrons to walk around and greet friends at various tables as if they were at a large private party. For me it was also a "penny university." In my journal I noted discussions about the 1950s career of Eddie Fisher and guessing games about the age and profession of various habitués of the cafeteria. John F. Kennedy's campaign visit to Dubrow's in 1960 was still reflected on often, over fifteen years later. I was told that the staff of Dubrow's collected buckets of women's pointy slip-on shoes that were left behind by the throngs that filled Kings Highway that night—throngs that included my father.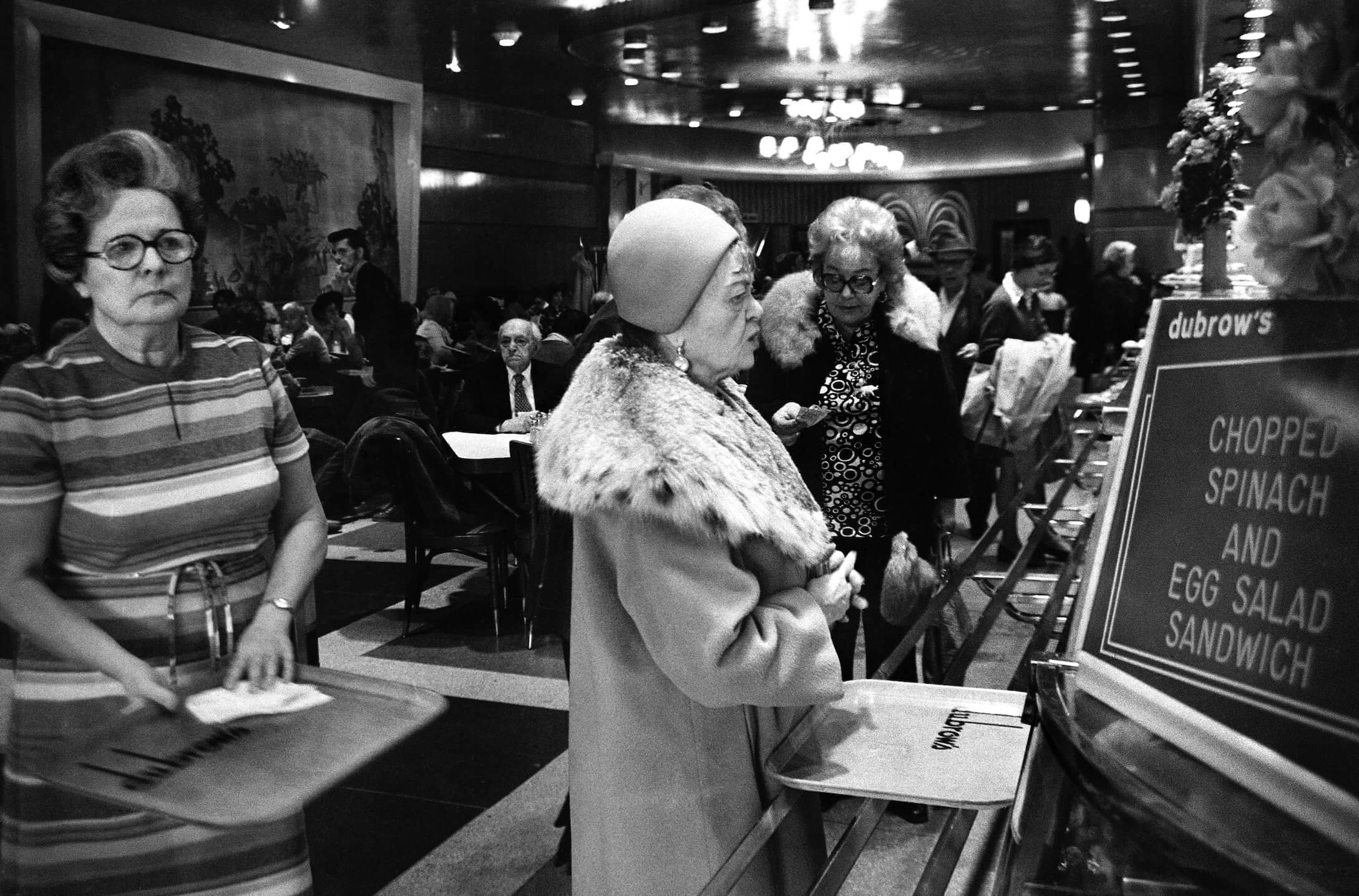 I was moved to photograph it because I thought it was an eroding world. I remember that, during the day, if someone wasn't nursing a Danish and a twenty-five-cent cup of coffee for hours, the joke was, "Mind my seat, I have to go home to eat." On many visits the tables were empty, sans a painterly still life of condiment bottles and jars in the morning light. Cafeterias were also places I perceived as embracing a secular Jewish cultural, which was something of interest to me. In 1977 I attended a lecture by Isaac Bashevis Singer, who was billed as an "Outstanding Anglo-Yiddish" author, at the Brooklyn Jewish Center on Eastern Parkway in Crown Heights. I loved his stories set in cafeterias and regret not having the courage to tell him my own.
When the Dubrow's on Kings Highway closed in 1978 I continued to photo- graph other last witnesses to these vanishing special places at the Dubrow's in the Manhattan Garment District, the Horn & Hardart on 57th Street, and the Paradise Cafeteria on 23rd Street and Sixth Avenue. I found the clientele at the Manhattan Dubrow's to be mostly garment industry workers and transient midtown shoppers. Although that Dubrow's location had appealing futuristic décor features and a large mural right out of a Hollywood set, complete with fashion models and Greek goddesses, it never became a community space for me until the final closing hours in 1985. The night before, a group of people gathered to have an informal farewell. We pocketed trays, spoons and ate the final piece of creamy nesselrode with comradeship.
Dubrow's was the type of place where the genders were referred to as guys and dolls, and I was enamored of that Runyonesque atmosphere. Gossip, lipstick, powder puffs, cigars, kerchiefs, fedoras, leopard pattern coats—all the cafeteria denizens' accoutrements for dining on gefilte fish, kasha varnishkes, rice pudding, or blintzes. It is possible that the opulent interior design was intended to offset the loneliness, depression, and poverty experienced by older customers.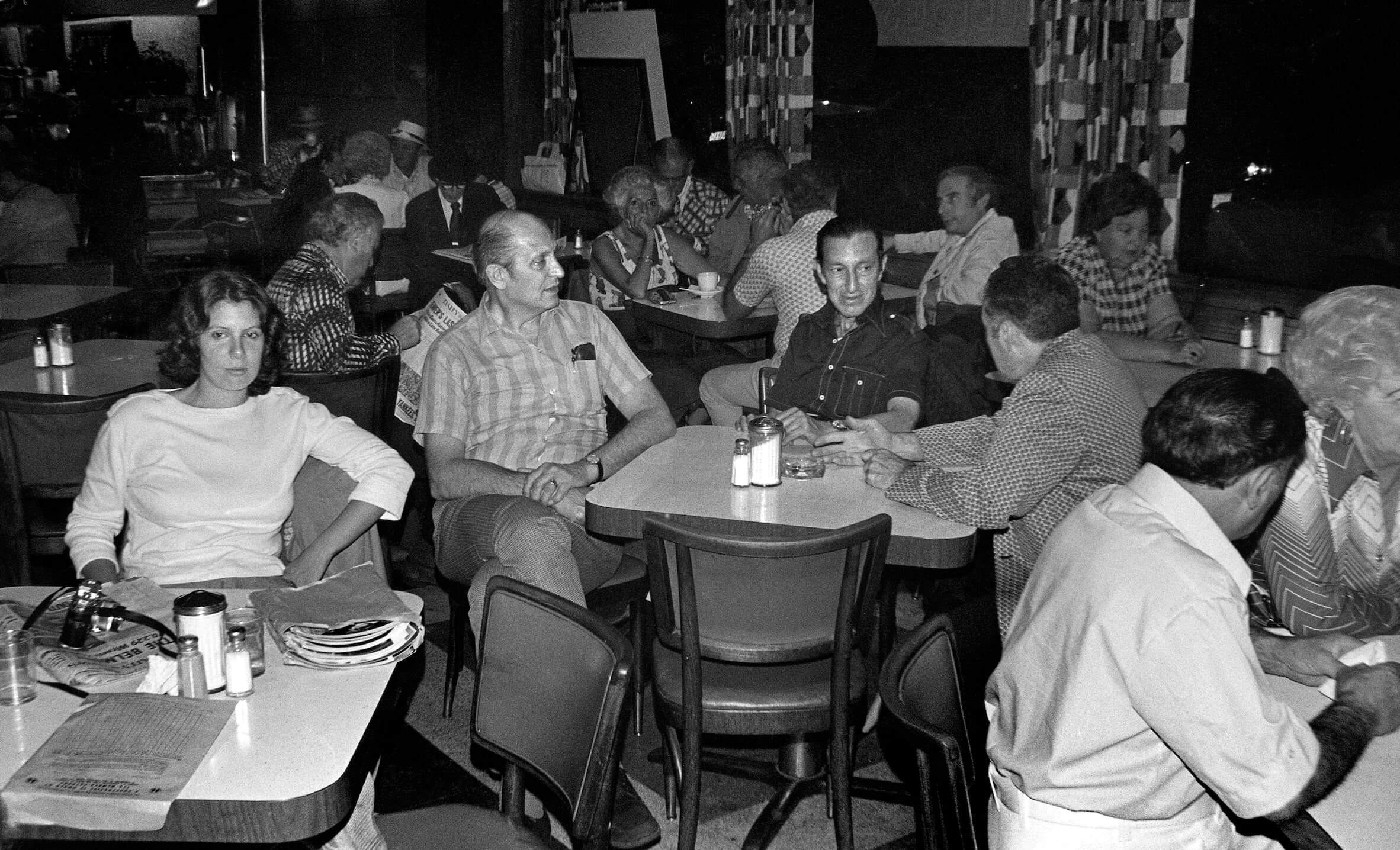 Cafeterias offered reimagined Eastern European Jewish food to older Ashkenazic Jews who loved to share their stories of hardship. The noodle kugel at Dubrow's was chock full of dairy—flaunting cottage cheese, cream cheese, sour cream, milk, and butter—and was topped with a sweet red fruit sauce. This was a New World kugel, not an Old World one. The pastoral mural and its images of baroque abundance, as well as the plastic flowers used to decorate displays of food, may have helped counteract these feelings for a short time.
The civil rights of smokers were well-supported at Dubrow's, from the cigarette machine by the entryway to the ubiquitous table ashtrays. Smoke hung in the air, and light from the sun filtered through it. Mornings seemed more atmospheric. In several of my photos, a rectangular streak on the frame edge turned out to be not a scratch but a cigar. I saved an opinion piece from 1996 in the New York Times where Wendy Wasserstein criticized the fast food and big box restaurants that are all over New York City. She ended her short essay by writing, "You would never meet Nathan Detroit at a Starbucks counter."
Whenever I've traveled, I check to see if there is a cafeteria still in existence in that city. Over the years, I've dined at the Zodiak Cafeteria in Warsaw, the Concord Cafeteria in Miami Beach, Clifton's in Los Angeles, the Piccadilly in Savannah, and a Horn & Hardart Automat in Philadelphia, among others. Now, all of them are closed. Sometimes I have a dream that I am traveling somewhere and finding a cafeteria designed by an immigrant. It is a place where the last remnants from a working class social and cultural environment gather.
Reprinted from Kibbitz and Nosh – When we all met Dubrow's CafeteriaCopyright (c) 2023 by Cornell University. Copyright (c), 2023, Cornell University. Use permitted by Cornell University Press.