Satatsuri: Café Culture, Georgian Style – Culinary Backstreets
Eka Janashia believes her dad could be an oracle to gentrification if ever there was one. We're sitting in Eka's chic café, Satatsuri, with its earthy brick walls and warm wood floors – a space that used to be the family head's modest two-bedroom ground floor apartment in a rather rundown corner of Marjanishvili.
The district was established in the early 17th century by German migrants who were invited  by Tsar Alexander I to settle in what was then part of the Russian Transcaucasian Empire. In fact, before the mass deportation of Germans and other nationalities and social groups deemed dangerous to the communist ideology by Stalin, there were about a dozen German colonies across Georgia – Marjanishvili, in particular, was a prime locality in the capital, frequented by rich merchants and nobleman of all creeds and nationalities until it fell into Soviet hands, becoming even more dilapidated in the chaotic years following the collapse of the Soviet Union. Although the main avenues were renovated recently, side streets still retain their old charm and crumbling heritage buildings.
Eka's father had moved here in the mid-2000s to escape the transformation of their former residence (an area that many Georgians still call by its Soviet name, Pervoskaya) into Tbilisi's first pub street. A fleet of Irish-themed watering houses opened their doors in their old neighborhood in the late 90s. These establishments served the first ex-pats to arrive in post Soviet Georgia. After a few more years of sleazier joints, massage parlors and a decline in morale, senior Janashia and her wife decided to leave the nest after their children had left.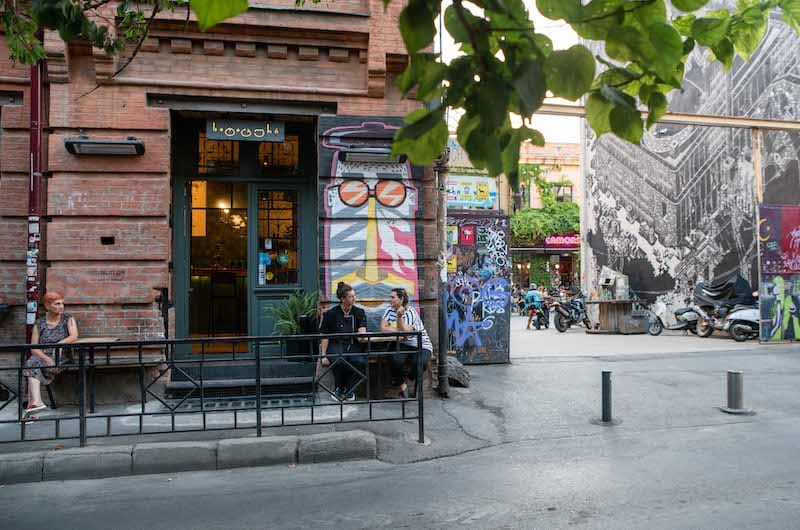 They were content to settle in Marjanishvili when they arrived. The couple also had the opportunity to view a lovely stained-glass-adorned, wood-latticed heritage structure that Melkumov, an Armenian merchant, built in 1851 and which served as the Consul of Persia over several years.
But their building also shared walls with an old disused Soviet garment factory that would eventually be transformed into the coolest, youth-centric multifunctional space called Fabrika, which brought hipsters crawling out of the woodwork to Tbilisi's left bank. The noisy renovations and boisterous parties that followed had Eka's father tearing out his hair until Eka and her husband, Iva Davitaia, offered to relocate them again to a slightly quieter street in the upscale Vake district.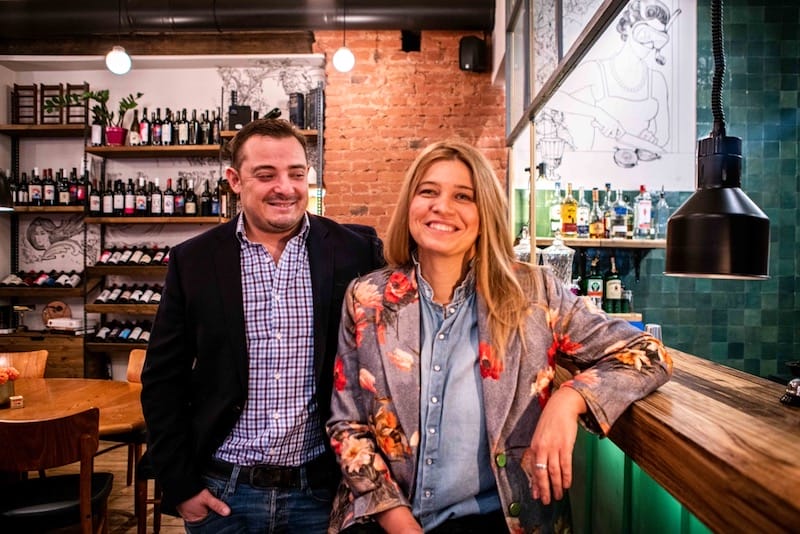 Realizing the ground floor apartment was no longer suitable as a residential space with the increased traffic in the streets, the couple – who had both worked with leading hospitality firms in Georgia, including Marriot and Adjara group – decided to capitalize on the rising popularity of the left bank among tourists and western expats and try their hand at a café-restaurant serving comfort Georgian-European fusion cuisine in a sleek and stylish setting.
"The idea was to offer something a couple of notches above other joints in the neighborhood yet still keep the menu casual and healthy," explains Eka on how their space, Satatsuri, was born. "It's a bit of a fine-dining space, without being posh," adds Iva.
The couple hired interior designers and roped in one of their favorite young Georgian artists, David Machavariani, famous for his illustrations in a graphic novel edition of the Georgian literary classic – "The Knight in Panther's Skin" – to create the café's arresting wall murals.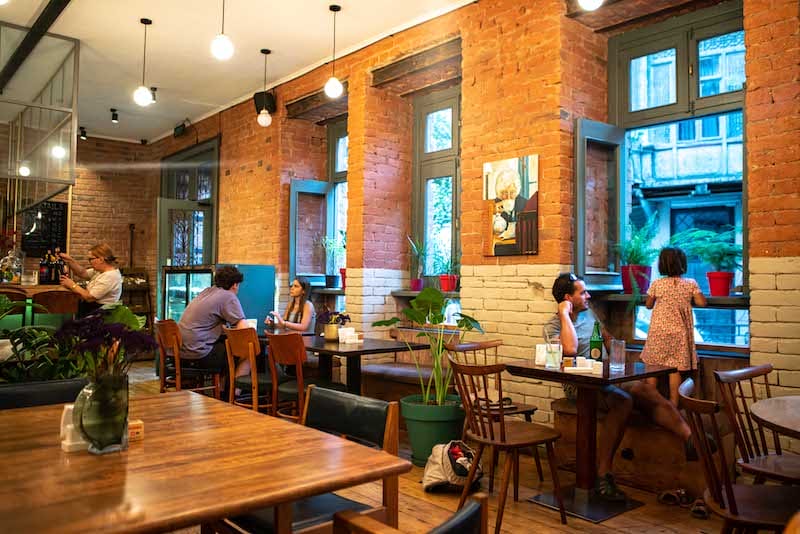 Local celebrity chef and Georgian MasterChef champion Luka Nachkhebia helped Eka and Iva create the menu, which offers a variety of salads, sandwiches, poke bowls, stuffed savory crepes, soups and Georgian-inspired dishes like ajapsandali (a sort of aubergine-heavy ratatouille) served with fresh hot waffles, a mashed potato and cheese dish from Svaneti called tashmijabi that's not unlike the French aligot except for different cheeses used, and chakhondrili, a slow-cooked meat dish heavy on a Georgian herb called khondari (summer savory) which gives the dish its name. Everything was going according to plan until the Covid-19 pandemic hit and the ensuing lockdowns.
The couple planned to launch their business in May 2020. However, local restrictions allowed delivery and take-out, but not seated dining. The couple quickly signed up for food delivery apps and started a social media campaign with one of their unique menu items – savory buckwheat-based crepe rolls with both vegetarian and non-vegetarian fillings. "The crepes really took off on the food apps and they are still one of the best-selling items even today," says Eka. The apps allow the brand to be registered on the public bandwidth. However, footfall was slow even after the pandemic-related restrictions were lifted. Being right next door to Fabrika, with its warren of cafés, bars and restaurants had both its benefits and drawbacks. "Many people first discovered us while on their way to Fabrika," admits Eka – but soon, the café's sleek yet intimate interiors drew regulars – including ourselves – who sought a quiet place for a conversation away from Fabrika's buzzing courtyard.
Today, Satatsuri – which means "asparagus" in Georgian – is one of the landmark café-cum-restaurants in the rapidly gentrifying left bank neighborhood of Tbilisi and one that's become a regular pit stop for those in need of a healthy lunch or a coffee break. The crispy fries are a great alternative to ketchup and we love the tender, melt-in the-mouth pork belly sandwiches.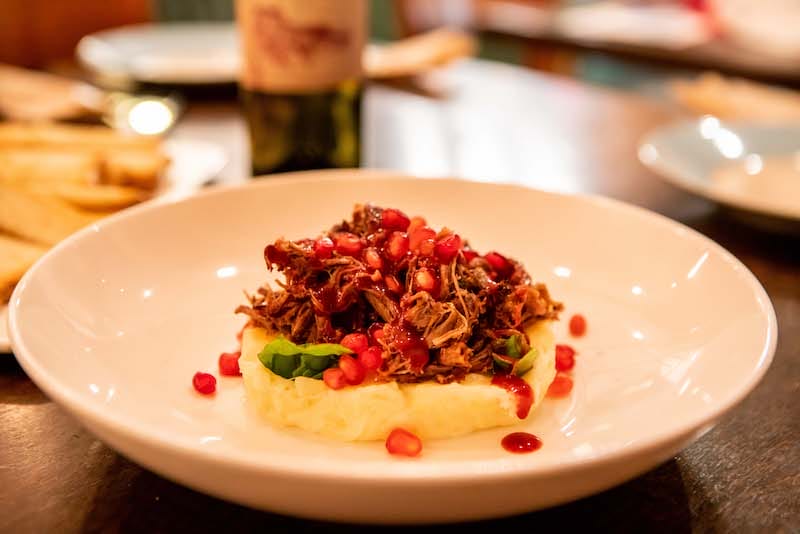 The ever-expanding wine menu, curated by Iva, encouraged us to extend our visits for dinners as well – our last meal of pork chakhondrili and tashmijabi and beef went down with a velvety 2020 Saperavi from a small family-owned winery called Sherma we hadn't heard of until Iva recommended it. "We personally know most of the winemakers we serve," says Iva, adding that one of the wines they stock is from a young winemaker who just dropped by restaurant in person with a few bottles of his excellent wine for Iva to taste. There are also some excellent upcoming labels like M7, Do Re Mi and Anapea wines. All of these wines are sold at a reasonable VAT inclusive price of 50 Gel (18.50$). All prices here are actually quite tax inclusive, which is rare in many upper-to mid-scale restaurants in Tbilisi. It can sometimes be surprising when you see the bill, so it is worth paying attention to the small print notice on menus.
Even though Satatsuri had a slightly rocky start, the café has settled in nicely here at the address inherited from Eka's father. But she admits things aren't going as well for her parents, as her father is seemingly unable to escape his fate. Although they moved to one of the city's upscale neighborhoods thinking chances of being chased by more development was less likely there, a new pub recently took over the ground floor of their current residence. "For my father's sake, I just hope it doesn't become too popular and noisy," remarks Eka with a laugh.
Published on November 24, 20,22